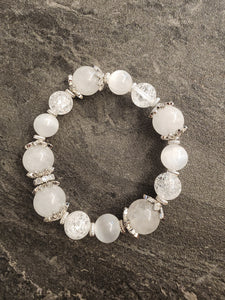 Crackle Quartz: Counteracts negative energy. Useful with regaining positive emotions and energy. It will make your thoughts clearer and fill them with positivity.
Selenite: Cleanses and purifies energy, clears away negative energy. Enhances healing practices and meditation. Promotes mental clarity and focus
White Marble: White marble is believed to have strong metaphysical qualities of grounding and calming. It provides for strength of self control and mastery of thought. It enhances the powers of serenity.
Dimensions:
Measuring ideally to fit a 15cm wrist, this bracelet is crafted with comfort in mind. It is delicately strung together with a high-quality elastic string, ensuring a secure and flexible fit for effortless wear.
Note: Each bracelet is lovingly handcrafted, and due to the natural variations in gemstones, no two bracelets will be exactly alike. Embrace the uniqueness of your bracelet, knowing that it is truly one of a kind.
* There will be no refunds or exchanges after purchase.